C'est avec un immense honneur que JUNDOKAN FRANCE organise et accueille pour la seconde fois le séminaire international JUNDOKAN OKINAWA GOJU RYU KARATE DO qui se déroulera à Cachan (France) les 14, 15, 16 et 17 avril 2012.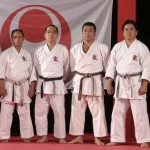 Les maîtres d'Okinawa qui nous font l'honneur de venir animer ce stage sont :
Yoshihiro Miyazato (Kancho)
Tetsu Gima Sensei (8ème DAN)
Tsuneo Kinjo Sensei (8ème DAN)
Kazuya Higa Sensei (8ème DAN)
Ils ont répondu à l'invitation de Ramanitrandrasana René Sensei (8ème DAN) qui les assistera. Nous espérons que vous trouverez sur ce site toutes les informations relatives à ce grand événement ! En espérant vous voir bientôt, Le comité Jundokan France
It's a great honor for JUNDOKAN France to organize and welcome for the second time the International Seminar JUNDOKAN OKINAWA GOJU RYU KARATEDO which will take place in Cachan (France) on April 2012, the 14th, 15th, 16th and 17th.
The Karate Masters from Okinawa who will lead the seminar are :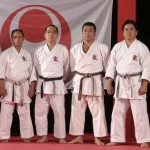 Yoshihiro Miyazato (Kancho)
Tetsu Gima Sensei (8ème DAN)
Tsuneo Kinjo Sensei (8ème DAN)
Kazuya Higa Sensei (8ème DAN)
They honor the invitation of Ramanitrandrasana René Sensei (8ème DAN) who will assist them. Hope you will find all needed information to attend this great event ! Looking forward to see you, Jundokan France committee